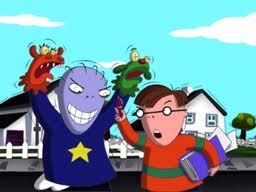 2002-2006
11 articles
Cramp Twins Wiki is an encyclopedia about The Cramp Twins TV Show that is regularry posted on Cartoon Network. Click Here to read more about the show. Anyone from any country can edit the site just clicking on the Edit button.
Lucien is the smarter out of the two twins, but also considered the 'eco-loser' and is not really a fighter, and thus, is bullied by Wayne. He enjoys science, nature and is a vegetarian. Read more...
Ad blocker interference detected!
Wikia is a free-to-use site that makes money from advertising. We have a modified experience for viewers using ad blockers

Wikia is not accessible if you've made further modifications. Remove the custom ad blocker rule(s) and the page will load as expected.